Trinity College, Cambridge, 1994–5
In 1995, I was a member of the team that won the first series when the show was brought back. Here are the others...
Trinity College, Cambridge, 1995

Sean Blanchflower
Kwasi Kwarteng
Robin Bhattacharyya
(Captain)
Erik Gray
Maths
undergraduate
Classics
undergraduate
Maths
undergraduate
English
undergraduate
I completed my PhD in Mathematics at Trinity, and am now Vice President of Engineering at a major software company. Kwasi finished his PhD in History at Trinity after a year in Harvard and is now the Conservative MP for Spelthorne in Surrey. Robin left Trinity after 11 years there, and teaches mathematics in a private school. Finally, Erik has returned to the States and is an English Professor at Harvard.
Robin returned to the show in 2011 as part of the Trinity team that won the special Christmas University Challenge.
Trinity's matches, 1995
First Round: Brasenose, Oxford 185 - Trinity 190
A shaky start. We had no idea about when we should be buzzing in and we left several starters to Brasenose when we knew the answer, and the nerves got to us a little! Even so, it was even at halfway and from then on we took it in turns to take the lead every two minutes. With only twenty seconds left we were five points behind and the crucial starter began. "What fictional residence is reputedly based on Top Withens farmhouse...", and Erik buzzed in with the correct answer of Wuthering Heights. The gong went before Paxman even had time to begin the first bonus. The producer called it the most exciting show of the series, though our match against Aberdeen later took that title without any competition.
Second Round: Queen's, Belfast 215 - Trinity 300
The second and subsequent rounds were filmed in November 1994, 4 months after the first round. So coming back for our second match felt as though we were old hands at the game and nerves disappeared. Queen's were a strong team and never let us get a comfortable lead until our final surge.
Quarter Finals: St Andrews 155 - Trinity 335
Into the last eight we knew we should only have tough matches from here on, and facing St Andrews, three of whom were decked in their bright red gowns, a team that The Times had described as "omniscient", we thought we'd have to perform well. On the day though, they seemingly never stood a chance. Our shell-shocked opponents could barely talk by the end!
It was also during this match that Kwasi inadvertently swore! It was so quiet, that I didn't hear it, despite being sat next to him at the time. However, several papers did, and we even made Page Three of The Sun
Semi Finals: Aberdeen 235 - Trinity 245
The match of the series, arguably between the two best teams of the series. Almost every starter and bonus was answered correctly. We knew Aberdeen, practically a one man team, were good, and our fear of losing to them almost ensured we did. Nothing seemed to go right for us; I counted five starters that one of our team got wrong when another knew the answer. And if there was a 50/50 guess we would give the wrong one. At halfway they had twice as many points as us, but we kept clawing back. With 90 seconds to go we were 35 points behind. I got a starter and the bonus was to name the 7 Cinque ports (including the 2 `new ones`). We got all 7 for the maximum 15 points. So ten points behind with 30 seconds left. "Which Shakespearean king dies of grief...", and once again Erik leapt in with the inspired King Lear, and the scores were level (Erik later said he was hesitant about the answer as it was "too obvious"!). Paxman got halfway through the first bonus when the gong prevented us taking a final lead. So the match was decided by a single tie-breaker question. It began, "In conventional Chess notation" - at this point I knew the responsibility was on me to get the answer being our side`s "chess specialist" - "...what letter represents..." - I knew at this stage whatever piece he was about to say I would know the answer and so buzzed in anticipation- "...the knight?" When I heard the words "Trinity, Blanchflower" I knew we'd done it. It then occurred to me I actually had to say the answer "N". We were in raptures. The final could only be an anticlimax.
The Final: New College, Oxford 180 - Trinity 390
It started well and soon turned into a rout. After only ten minutes the score was 210 to us, and 5 to our dark suited opponents. Only some inspired guessing saved New College's total embarrassment. The icing on the cake was when one of the bonuses in the picture round was a portrait of our college's founder Henry VIII that hangs in the Dining Hall! Bamber Gascoigne awarded us the prize and told us it was the highest score he could remember. So we got a sculpted steel trophy. New College got a vote of censure from their college JCR for appearing boring and unrepresentative of the college. Those were the days...
Trinity College, Cambridge, 1974
We are the second Trinity team to win, the first being in 1974. Christopher Vane, Wynn Jolley, Simon Schaffer, and Paul Hopkins chose the prize of three punts (named 'Bamber I', 'Bamber II', and 'Bamber III') that were only taken out of service in the mid-90s. Along the way they defeated: Edinburgh; Birkbeck College, London; Lincoln College, Oxford; Jesus College, Oxford; Trinity College, Oxford; and Balliol College, Oxford.
In those days the winners usually went on to play a team of fellows from their university or college in a Christmas special. Here is a photo of that match (the fellows won!).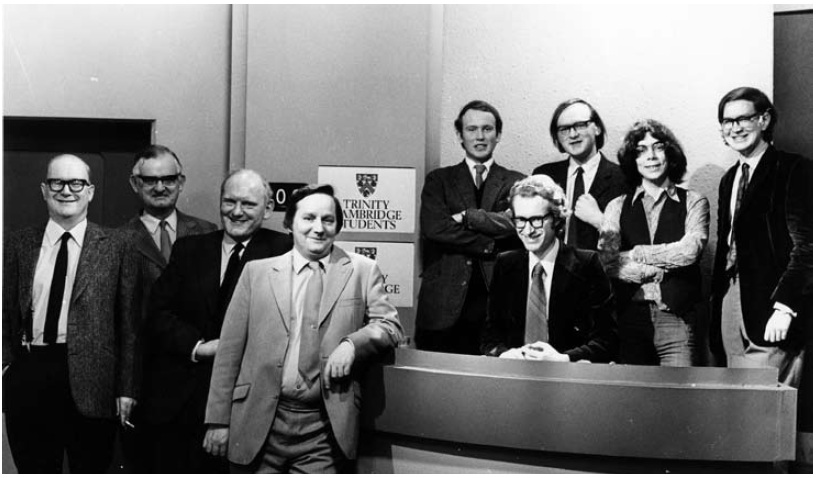 They are (left to right) Prof Gallagher, Sir James Lighthill, Dr Bradfield, Mr JA Weir, Christopher Vane, Bamber Gascoigne, Frederick 'Wynn' Jolley, Simon Schaffer, and Paul Hopkins.
From the undergrad team, Simon Schaffer is still in Cambridge as a Professor in the Department of the History and Philosophy of Science, and Christopher Vane is a lawyer in Newcastle. The Fellows have sadly all passed away; Sir John Bradfield died in 2014, Tony Weir died in late 2011, Professor Lighthill died in 1999 and Professor Gallagher passed away in the 1980s.